Tips for Selling Your Home
In today's age of consumerism, most buyers will know within 15 SECONDS after crossing the threshold if they want your home. Today's buyer is interested in moving into a home that does not require any "move-in repairs". They do not want to patch or paint the inside or do landscaping on the outside. Today's buyer is busy, usually two-income, needing to quickly get on with their lives.

Staging is designed to differentiate a house, to create emotion, which translates into more offers and more money. Selinger-Eaton says that she creates an illusion. "Even if there's a grungy couch, we can update it buy buying pillows and throws at Target." "Showcasing your home's best features takes more than de-cluttering a house, adding flowers and placing a bed on an angle! It's creating favorable impressions everywhere the eyes rest. Starting at the curb-side, moving throughout the house to the very back edge of the property, everything needs be reviewed with a objective eye."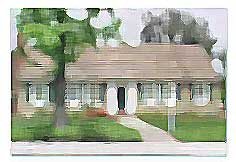 Exterior Appearances: The buyer's first glimpse of your home must entice them inside.

Keep the lawn cut and the hedges and shrubs trimmed - Weed and edge all garden areas
Clean up oil spills and other spots on the driveway
Touch up the paint where needed
Make repairs where needed
Clean out that garage!
Add a couple of BIG plants, either in hanging baskets or pots, to the porch, which will lead buyers' eyes to the entrance.
Get rid of brown or dead leaves and bare spots in the yard: Add mulch to cover bare dirt near the house. Bright flowers hold the eye and "fill" empty areas, but you don't need to add plants to every space. Just make sure that everything looks neat.
Paint your front door a happy color: Yellow-gold (amber), red (blue-based), sage, apple, or forest green, depending on the other colors of your home, will attract the eye and create happy feelings. Buyers won't notice the Color Psychology you're employing, but they'll love the result.

General Maintenance:

Repair leaking faucets and toilets
Clean the furnace and all filters (if applicable)
Tighten up the door knobs and latches
Touch up paint where needed
Clean the windows and repair any broken ones
Repair seals around tubs and sink basins
Replace any defective light bulbs
Apply oil to any squeaking hinges on the doors

General Cleaning:

Clean and freshen all bathrooms
Clean the refrigerator and stove (inside and outside)
Clean around heating and A/C vents
Clean clothes washer and dryer
Clean the dishwasher - 1/4 cup instant orange breakfast drink removes stains
Clean carpets, drapes and window blinds

At The Entrance:

Keep porch and foyer areas clean
Make sure the door bell works
Apply fresh paint or varnish on the front door
Repair any door locks that may need it
Play music every day; you never know when a showing may occur.

Interior Appearances:

Turn on the lights
Turn on the air conditioner/heater
Open the drapes - Let the sun in
Light the fireplace (if applicable)
Touch up paint where needed
Less is more: Remove clutter and use a few wisely chosen accessories (candles, fresh flowers, crystal) to beautify your home.
Bedrooms should have beds: If you're a bed short, use an inflatable mattress and some boxes to create a faux bed.
Light and more light: Raise window blinds to let in as much natural light as possible.
Modernize fixtures: Brass and glass light fixtures are dull and should be hidden or replaced. Affordable new lampshades will minimize their appearance. Chrome, iron, or brushed-nickel fixtures give a modern look.
Disguise furniture: If your couch looks shabby, disguise it with decorative attention-grabbing pillows and throws.
Create life: Dining-room and kitchen tables should look as though you're ready for guests to arrive. Set out your favorite dishes and napkins to make it look inviting.

Go beyond just clearing clutter, and remove furnishings that don't add to the setting. Also clear bathroom and kitchen countertops. Under-furnished homes let the buyer's imagination fill rooms with their own belongings. Once they visualize their favorite chair in a particular spot, you have a sale.
Pack away your personal photographs, trophies, diplomas, and small accessories and stack them neatly in the garage or a separate storage space. That will also protect you from having strangers view your personal life.
If your home looks too bare, replace your personal treasures with house plants or cuttings from the garden. Be creative:

Use tree branches and fresh flowers to bring nature indoors.
Fill vases and glass jars with fresh cuttings and set them in baskets.
Add green house plants in winter, spring, and fall.
During hot selling seasons, use green, silver and gray foliage to help keep your home visually cool.

Lighting affects your buyers' emotions and is a crucial design element for happiness, so turn on the lights when showing your home. Day-like light bulbs enhance happiness. Amber and pink light bulbs warm, while blue light cools.
Air the house out. You get used to odors, but buyers shouldn't smell anything other than natural pleasing scents like wood burning in the fireplace or fresh lemon in the summer.

Cut up a grapefruit and run sections through the garbage disposal. It's both refreshing and clean smelling.
Bring the smell of fresh baked goods in by using plug-in room fresheners or burning scented candles.

Buyers like temperatures around 70 degrees in the winter and 67 degrees in the summer, so turn up the thermostat in the winter and turn it down in the summer.

Involve the family. Everyone help to keep the house "picked up" & ready to show. Before all showings open window coverings, turn on lights, generate that "fresh baked" smell, keep garage doors and toilet seats down!

Price, Location and Condition are three of the most important ingredients for a successful sale. In order for a house to sell, the list price must be in direct relationship to the other ingredients. If just one of those ingredients is off balance, the property will take longer to sell and the $$$ amount will be less. If your home is less than ready to sell and you don't see the need to "prepare it for sale" don't be disappointed when an offer comes in at less than you hoped for.